State Bank of Travancore Now a Part of India's Largest Direct Debit Engine
January 28, 2009 - Mumbai.
"We are constantly working towards providing our merchants with a single solution that has multiple payment options and hope to include many more banks in the near future" - Mr. Vishwas Patel, CEO, Avenues India Pvt Ltd.
Avenues, South-Asia's largest integrated e-commerce company is pleased to announce that State Bank of Travancore, an associate bank of the State Bank of India Group, is now a part of its direct debit engine. Recently, Avenues tied up with State Bank of Travancore for Net Banking and Debit Card Processing. Currently, Avenues has 6 Credit Cards, 12 Debit Cards, 23 Indian Banks, Cash Card and Mobile Payment options. Through this tie-up, Avenues will add yet another payment option to its direct debit engine. This will consolidate Avenues position in the minds of its merchants as the payment solution with the widest range of payment options.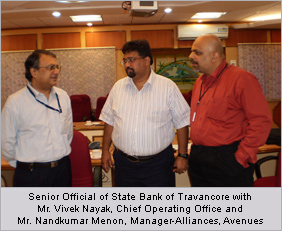 This partnership will also be extremely beneficial to State Bank of Travancore. The bank account holders can now use their Bank Accounts to pay for goods and services of over 5,000 of Avenues web merchants; retailing millions of different types of products and services, make and pay for hotel reservations online, and make online bookings for events and exhibitions. By signing up with Avenues, State Bank of Travancore has consolidated its commitment to being a leading, innovative bank and has moved a step closer to its goal of creating better value for its customers, through a proactive approach to the changing needs of the society.
About State Bank of Travancore
Established in 1945, State Bank of Travancore was initially named Travancore Bank Limited & was found by the Maharaja of the Princely State of Travancore. It is an Indian bank with corporate headquarters in Trivandrum, Kerala, India. The bank is an associate bank of the State Bank of India Group. State Bank of Travancore has more than 60 years of dedicated service and a network of 712 branches and 389 ATMs spanning 16 states of the country. It is a member of the largest ATM network in the country and uses world class technology through the implementation of 100% Core Banking Solution. The bank employs more than 11,000 personnel. Its total business circa was Rs. 59,734 crores in 2007.
About Avenues
Incorporated in the year 2001, Avenues is South Asia's largest payment gateway solution company powering thousands of eMerchants with eCommerce solutions and real time, multi-currency, multiple payment options online payment processing services. Avenues is headquartered in Mumbai, India and has subsidiary companies and offices in USA, Singapore and China. Avenues' has developed several innovative, cutting-edge ASP hosted solutions that are used by thousands of eMerchants globally. Avenues' has three Business Units namely– Avenues Commercial Services, Avenues Travel Industry Services and Avenues Community Related Services.
All Avenues' solutions are empowered with a complete PG solution that has the unique ability to offer the full spectrum of Internet payment options, including:
All types of Credit Card processing through Multiple Banks and Card Associations
Debit Card processing.
Direct Debit to bank accounts of 26 Indian Banks, 20 Chinese Banks and 3 Singapore Banks
Mobile Payment Solutions via PayMate®
Cash Card Processing of ITZ Cash®
For more information, visit:
www.CCAvenue.com
(for general eCommerce Processing),
www.ResAvenue.com
(for Online Hotel Reservations through the Hotel website),
www.EventAvenue.com
(for Online Event Management solution),
www.HotelsAvenue.com
(for Online Travel Inventory Solution).



















Real Time Payment Processing


Single Window Interface Management


Extensive Distribution Network


Zero Setup Cost


Seamless GDS and IDS connectivity