The Bank of Baroda is the latest bank added to Avenues' Direct Debit Payment Engine. Its customers can now pay for room reservations at any ResAvenue hotel effortlessly.
March 05, 2009 - Mumbai.
Avenues is pleased to announce that it has added the 26th Indian Bank 'Bank of Baroda' to its robust direct debit engine. The Bank of Baroda is the sixth largest bank in India with a large customer base located all across India. It also has a strong international presence with offices and branches in 25 other countries such as United States of America, United Kingdom, Australia, Bahamas, Bahrain, Belgium, China, Hong Kong, Malaysia and many more.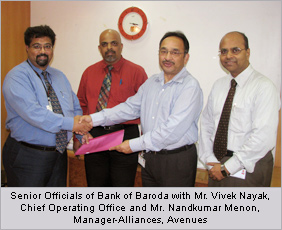 The signing of this net banking and debit agreement will enable Avenues to increase its debit card options to 15 and its direct debit options to 26. These additions will help expand its associated merchants, hoteliers and event organizations reach within the Indian Sub-continent and further its goal to provide them with the very best in terms of technology, service and payment options.
The Bank of Baroda will also benefit with an increase in its brand value in the eyes of its customers. The agreement with Avenues will give their customer easy access to thousands of merchant, hotel and event websites. They will now be able to pay for products and services, hotel accommodation and event tickets at any of these associated Avenues websites directly through their Bank of Baroda bank accounts.
All-in-all, this net banking and debit agreement will prove to be highly beneficial to both parties.
About Bank of Baroda

Established in 1908, Bank of Baroda is the sixth largest bank in India. It offers a wide range of banking products and financial services to corporate and retail customers through a variety of delivery channels and through its specialized subsidiaries and affiliates in the areas of investment banking, credit cards and asset management.
The Bank of Baroda provides these services in India through its network of over 2800 branches and offices, and 1000+ ATMs. It also has a strong international presence with a network of 72 offices in 25 countries, 6 subsidiaries and 4r representative offices.
About Avenues

Incorporated in the year 2001, Avenues is South Asia's largest payment gateway solution company powering thousands of eMerchants with eCommerce solutions and real time, multi-currency, multiple payment options online payment processing services. Avenues is headquartered in Mumbai, India and has subsidiary companies and offices in USA, Singapore and China. Avenues' has developed several innovative, cutting-edge ASP hosted solutions that are used by thousands of eMerchants globally. Avenues' has three Business Units namely– Avenues Commercial Services, Avenues Travel Industry Services and Avenues Community Related Services.
All Avenues' solutions are empowered with a complete PG solution that has the unique ability to offer the full spectrum of Internet payment options, including:
All types of Credit Card processing through Multiple Banks and Card Associations
Debit Card processing.
Direct Debit to bank accounts of 26 Indian Banks, 20 Chinese Banks and 3 Singapore Banks
Mobile Payment Solutions via PayMate®
Cash Card Processing of ITZ Cash®
For more information, visit:
www.CCAvenue.com
(for general eCommerce Processing),
www.ResAvenue.com
(for Online Hotel Reservations through the Hotel website),
www.EventAvenue.com
(for Online Event Management solution),
www.HotelsAvenue.com
(for Online Travel Inventory Solution).



















Real Time Payment Processing


Single Window Interface Management


Extensive Distribution Network


Zero Setup Cost


Seamless GDS and IDS connectivity